AC Maintenance Plans Available at Caldeco Air Conditioning & Heating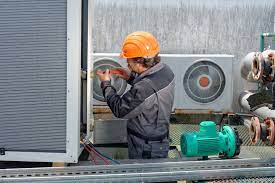 AC maintenance plans allow you to take the guesswork out of maintaining your central air conditioner, and at Caldeco Air Conditioning & Heating, we have AC maintenance services and plans to suit nearly any family or small business. By keeping your AC system well-maintained, you can take advantage of all of the benefits of a well-running system, including longer equipment life, less frequent repairs, and lower energy bills. For more benefits of AC maintenance or to schedule your first visit, speak to our experts today.
Call now to connect with our team!
Which of Our AC Maintenance Plans Is Right for You?
At Caldeco Air Conditioning & Heating, we believe in providing our customers with the solutions for their unique situations. That's why we are pleased to offer a variety of maintenance plans from which you can choose, including:
AC System Check-Up: For our new customers or those we haven't serviced within the last 3 years, our quick and easy AC check-up is a great solution for you to get a handle on the current condition of you central AC system. We can evaluate the entire system, provide you with minor maintenance procedures, and provide you with a detailed report on the state of your system.
Precision Tune-Up: A 100% guaranteed tune-up and cleaning service, the Precision Tune-Up is recommended for our current customers who are interested in starting a maintenance plan. We will test all aspects of your system, including your electrical relays, contacts, motors, capacitors, and more, and we'll do it all for a great rate.
The Platinum Plan: Our customers with busy schedules often enjoy taking advantage of our Platinum Plan, which allows them to take the guesswork out of scheduling their AC maintenance. We'll contact you when you are due for service, and you'll get priority scheduling, a 15% discount on any needed repairs, the elimination of overtime charges, and much more.
Ready to learn more about our AC system maintenance plans? View complete plan details today!
A Full Range of AC Sales & Services Available at Caldeco
In addition to AC maintenance, our top-rated technicians can provide your family or small business with AC and heating repair, duct cleaning and sealing, air filtration, and so much more.
As a Carrier Factory Authorized Dealer, we proudly serve residential and commercial customers in Tampa, Brandon, Riverview, Carrollwood, Land O' Lakes, and beyond, so if you are ready to learn more about any of our AC maintenance plans, or you're ready to schedule your first service, contact us today!