Top-Quality Duct Repair Services for Greater Energy Efficiency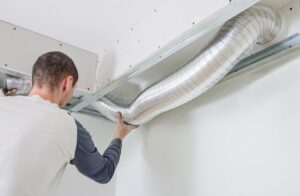 If your AC ducts are broken, damaged, or leaking at the seams, it's time to call in experts to complete duct repair services. Any opening throughout your ductwork can lead to energy loss due to losing air that has already been cooled, adding warmer air back into the system, and, in turn, creating temperature control issues that cause your system to work overtime. Don't let your family or business suffer with high energy bills when you can call the experts at Caldeco Air Conditioning & Heating to get your ducts repaired, sealed, or replaced. Call now to speak to our team!
Complete Duct Repair Services
Whatever the reason for your damaged air ducts, our team of experts can diagnose and repair the issue quickly and easily. We work with customers on replacing water-damaged ducts, ducts that have been punctured or ripped, ducts with broken seals, and more to help ensure that your AC system transports your cool air as efficiently as possible.
In addition to energy improvements, duct repairs can also help improve the quality of your indoor air. Leaks in your ductwork enable contaminants, allergens, dust, mold, mites, and other potentially damaging pollutants can enter your airways and spread these particles throughout your home or business. By repairing holes, rips, and leaks, you can keep the bad contaminants out of your air to protect those you care about most.
Schedule an appointment today to learn more about our duct repair services!
We Offer AC Duct Repair Services Throughout Tampa Bay & Beyond
As a top-rated AC service, installation, and repair company that serves customers throughout Tampa Bay and beyond, we are glad to provide service to both residential and commercial customers in Tampa, Brandon, Clearwater, Wesley Chapel, Land O' Lakes, and the surrounding regions. If you are looking for licensed, insured, experienced technicians, contact the experts at Caldeco Air Conditioning & Heating today.