AC Repair Contractor for Residential & Commercial Customers in Central Florida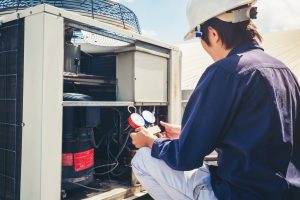 If you are looking for an AC repair contractor to service or repair your residential or commercial AC system, the team at Caldeco Air Conditioning & Heating is here to help. We have skilled and qualified technicians ready for dispatch across the Tampa Bay region, and we offer a complete range of AC sales and service options. Whatever you might need for your AC system, the experienced technicians at Caldeco Air Conditioning & Heating are here to help. Speak to our team today about your AC system needs and connect with the Hometown Experts who care.
Call now to get started!
An AC Repair Contractor to Complete Any Repair – Large or Small!
When you are looking for a licensed professional to provide you with heating and cooling services, it's important to look for a company with a proven track record of customer satisfaction. For decades, the team at Caldeco Air Conditioning & Heating has been exceeding customer expectations when making their residential and commercial HVAC system repairs.
ANY MAKE OR MODEL
You can come to us for any repair, regardless of the make or model of your system. While we are a Carrier Factory Authorized Dealer and are often sought out for our expertise repairing and maintaining Carrier systems, our technicians are trained and experienced in completing repairs and maintenance according to best practices on models from any manufacturer.
COMPETITIVE RATES
While it's true that you get what you pay for, we strive to keep our thorough and top-rated services as competitively priced and affordable as possible.
Ready to get your AC repair on the books? Schedule your appointment today!
Caldeco Air Conditioning & Heating can also offer you a wide range of other AC system services, including AC maintenance, duct cleaning and sealing, air filtration services and products, and much more.
We are proud to serve customers throughout Tampa, Brandon, Riverview, Carrollwood, Land O' Lakes, and the surrounding regions, so if you are looking for an AC repair contractor near you, contact us today!