Two Great Options for Financing
Your New Air Conditioning System!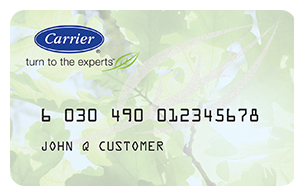 A Carrier® credit card* from Wells Fargo Bank, N.A. is an easy and convenient way to pay for goods and services you purchase. And, as a Carrier® cardholder you can take advantage of other great benefits available throughout the year, such as:
Special promotional offers where available
Revolving line of credit that you can use for future purchases
Quick credit decision
Convenient monthly payments to fit your budget
Easy-to-use online account management and bill payment options
*The Carrier® credit card is issued by Wells Fargo Bank, N.A. with approved credit. Carrier® is a Registered Trademark of Carrier Corporation.
Apply Here

Renew Financial offers simple financing for home improvement projects. With Renew's PACE financing, you can make your home more comfortable, safe, healthy, and energy efficient with no upfront cost and then repay as a line item on your property tax bill. For more than a decade, homeowners have trusted Renew Financial to help them afford to make critical home improvements with ease.
Apply Here
Caldeco Air Conditioning & Heating is an independent company and is not owned or controlled, in whole or part, by Renew Financial Group LLC. (CONTRACTOR) does not provide financing and is neither a lender nor a broker. Renew's PACE financing is provided by energy finance leader Renew Financial Group LLC in cooperation with local governments sponsors, and financing approvals are subject to underwriting and documentation requirements.
CALL TODAY
813-254-2211
or Fill Out Our Form to Book
Service or Maintenance
Caldeco is a Florida Licensed Air Conditioning and Electrical Contractor
License # CAC042723 & EC13003918
Privacy Policy
Copyright © 2020 Caldeco Mechanical Services, Inc.
d/b/a Caldeco Air Conditioning & Heating