Great Options for Financing
Your New Air Conditioning System!

Residential Equipment Financing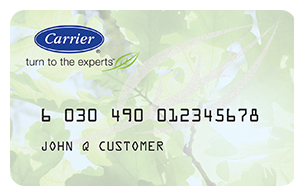 A Carrier® credit card* from Wells Fargo Bank, N.A. is an easy and convenient way to pay for goods and services you purchase. And, as a Carrier® cardholder you can take advantage of other great benefits available throughout the year, such as:
Special promotional offers where available
Revolving line of credit that you can use for future purchases
Quick credit decision
Convenient monthly payments to fit your budget
Easy-to-use online account management and bill payment options
*The Carrier® credit card is issued by Wells Fargo Bank, N.A. with approved credit. Carrier® is a Registered Trademark of Carrier Corporation.
Apply Here
Commercial Equipment Financing

CALL TODAY
813-254-2211
or Fill Out Our Form to Book
Service or Maintenance
Caldeco is a Florida Licensed Air Conditioning and Electrical Contractor
License # CAC042723 & EC13003918
Privacy Policy
Copyright © 2020 Caldeco Mechanical Services, Inc.
d/b/a Caldeco Air Conditioning & Heating