AC Service for Your Home in Tampa: Your Comfort, Our Priority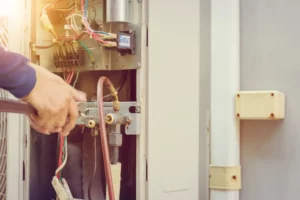 At Caldeco Air Conditioning & Heating, we understand that your home is your haven. It's the place where you relax, spend quality time with your family, and escape the often-harsh Florida weather. That's why providing the most reliable and efficient AC service for homes in Tampa and the surrounding areas is at the heart of what we do.
Your Local Tampa AC Service Experts
Caldeco Air Conditioning & Heating is a name synonymous with home comfort in Tampa. We've been serving homeowners in this region for years, ensuring their air conditioning systems perform optimally throughout the year. Our comprehensive AC services are designed to address the unique challenges that Tampa homeowners face due to the region's humid climate.
Comprehensive AC Service to Keep You Cool
Our AC service for home includes routine maintenance, effective repair, and efficient installations. Regular maintenance of your air conditioning system helps in preventing costly repairs down the line, and our team of experienced technicians knows just what to look for during these inspections. When repairs are needed, we strive to deliver a prompt, efficient service that gets your AC unit up and running again as quickly as possible. For those seeking new installations, we only work with the best manufacturers, ensuring your new AC system offers peak performance and longevity.
Regular Maintenance for Optimal AC Performance
At Caldeco Air Conditioning & Heating, we recommend regular maintenance of your AC unit to ensure optimal performance. Our skilled technicians are adept at identifying potential issues before they become significant problems. Regular maintenance not only extends the lifespan of your AC system but also maintains its efficiency, saving you money on energy bills.
Fast and Efficient AC Repairs
When it comes to AC repair, timely response and efficient solutions are our strengths. We understand the discomfort a malfunctioning AC system can cause, especially in the hot Tampa climate. That's why we are committed to providing a quick, yet comprehensive AC repair service to get your system back up and running in no time.
AC Installation You Can Trust
If it's time to replace your old, inefficient AC unit, trust Caldeco Air Conditioning & Heating for your new installation. We work with top AC manufacturers to provide our customers with systems that deliver excellent performance, energy efficiency, and durability.
Serving Tampa and Beyond
Our commitment to providing top-notch AC service for home isn't limited to Tampa alone. We proudly serve Clearwater, Brandon, Carrollwood, Temple Terrace, and the surrounding regions. Our reach extends far and wide to ensure that every homeowner in our service area has access to the exceptional AC services they deserve.
Trust Caldeco Air Conditioning & Heating
Don't let a faulty air conditioning system come in the way of your comfort. Trust Caldeco Air Conditioning & Heating for all your AC service needs in Tampa and beyond. We're just a call away. Let us ensure your home is the cool, comfortable haven it should be, all year round. Call now or contact us online today!