Premium AC Service Plans for Comprehensive HVAC Maintenance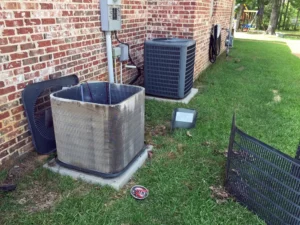 Welcome to the world of quality HVAC maintenance, where our focus is to keep your air conditioning unit performing at its best. If you're unfamiliar with the importance of regular AC maintenance, or you're curious about the service plans we offer here at Caldeco Air Conditioning & Heating, you've landed on the right page. Here, we will demystify the importance of HVAC maintenance, outline our diverse AC service plans, and explain why they are a perfect fit for your needs.
The Importance of Regular HVAC Maintenance
Regular maintenance of your HVAC system isn't just a recommendation—it's essential for optimal performance and longevity.
The Value of a Timely AC Service Plan
Investing in an AC service plan has numerous benefits that often go unnoticed until you encounter an AC issue. Regular servicing reduces energy consumption by ensuring your unit runs efficiently, leading to reduced utility bills. It also helps in detecting minor issues before they escalate into major, costly repairs. Additionally, regular maintenance enhances your AC unit's lifespan, saving you the expense of early replacement.
Risks Lurking Behind Neglected HVAC Maintenance
Contrarily, ignoring regular HVAC maintenance poses potential risks that can disrupt comfort and lead to unexpected expenses. These include frequent breakdowns, high energy costs, inconsistent cooling, poor air quality, and a shortened AC unit lifespan.
Our AC Service Plans
We understand that each client has unique needs and preferences. Therefore, we offer three different AC service plans designed to meet a wide array of maintenance needs.
The Basic AC Service Plan - Annual Check Up
Our Basic AC Service Plan is perfect for those seeking routine HVAC maintenance. It includes an annual servicing, which covers basic cleaning, filter changes, and general system check-ups, and is the plan of choice for new customers.
The Premium AC Service Plan - Precision Tune-Up
Next in line is our Premium AC Service Plan, offering all the services of the Basic Plan, plus a chemical cleaning of your indoor coils, drain pan and drain line, outdoor coils, and more.
The Most Comprehensive AC Service Plan - Platinum Plan
The Platinum AC Service Plan is our all-inclusive package for those wanting the highest level of care. Along with all the services of the Premium Plan, it includes a 15% discount on repairs, no overtime charges, and priority scheduling.
Why Choose Our AC Service Plans?
Our AC service plans are not just about regular maintenance—they're about providing value-added services that are centered around you.
With years of experience in the HVAC industry, our team of skilled technicians is well-equipped to service all makes and models of AC units. We leverage this expertise to ensure your system is always in prime condition.
At Caldeco Air Conditioning & Heating, you're more than just a client—you're part of our family. We treat your comfort and satisfaction as our top priority, ensuring a pleasant experience from the first call to service completion.
We believe in fair, transparent pricing with no hidden charges. All our AC service plans are reasonably priced and designed to offer maximum value, keeping your AC system efficient without burning a hole in your pocket.
Your Comfort is a Call Away
Thank you for taking the time to explore our AC service plans. We hope this information has helped you understand the critical role of HVAC maintenance and the value our service plans can bring to your home or business. For complete plan details, please read on.
At Caldeco Air Conditioning & Heating, we're committed to keeping you cool in the summer heat and warm in the winter chills. Our AC service plans are designed to ensure your comfort throughout the year. We proudly serve customers in Tampa, Clearwater, Brandon, Carrollwood, Temple Terrace, and beyond.
Don't wait until your AC system starts acting up. Invest in a proactive AC service plan today and enjoy peace of mind, knowing your comfort is in the hands of experts. Give us a call or contact us online to get started.
Remember, your comfort is our priority, and we're just a call away.