Air Conditioner Service for Those in Central Florida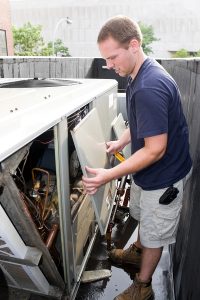 The best way to avoid an emergency air conditioner service and ensure you stay comfortable year round is by scheduling regular AC maintenance services with Caldeco Air Conditioning & Heating. We are a family owned and operated air conditioning and heating company that has provided quality services since 1989. As the Tampa Bay hometown experts, you can expect more from us than you can from a typical AC repair company.
We don't want you to be sweltering in the heat because your unit quit working on the hottest day of the year. We offer service and maintenance programs such as our Precision Tune-up and our Caldeco Energy Savings Agreement. Both programs are designed to keep your unit in top condition during the hot summer season and for years to come.
Unlike another AC repair company, we hope you don't need to call us for an emergency repair. To help you limit the number of service calls needed and extend the life of your unit, we provide a list of useful tips including the following and more:
Clean and replace your filters regularly
Set your thermostat to 78 degrees or higher in summer, when possible
Reduce your AC workload by using ceiling fans and adding other fans where necessary
Service your AC unit regularly
Use programmable thermostats
Block sunlight in the summer with curtains, blinds or shades
In the event that you do need air conditioner service to repair your unit, Caldeco Air Conditioning & Heating provides quick response times and top quality services. For your convenience, we offer regular office hours Monday through Sunday, and emergency service after hours if necessary. Our PDA communication system allows us to respond quickly to your request and dispatch one of our experienced, NATE certified service technicians to your location .
To avoid the need for emergency air conditioner service, contact us today to schedule a Precision Tune-up of your AC unit in Tampa, Wesley Chapel, Brandon, Westchase, Clearwater or the surrounding cities. We look forward to serving you!