Unleash the Power of Innovation with Carrier Ductless Heating and Cooling Systems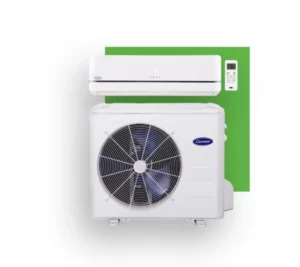 Embrace comfort and energy efficiency with Carrier Ductless Heating and Cooling Systems. The face of HVAC technology has been redefined, offering a seamless blend of functionality and advanced temperature control.
Carrier's ductless or mini-split systems come with an array of benefits that have been game-changers in the heating and cooling industry. These benefits offer increased efficiency, cost-effectiveness, easy installation, and versatility, setting them apart from traditional HVAC systems. Let's dive deeper into these benefits:
Harness the Power of Efficiency and Flexibility with Ductless Systems
Carrier Ductless Heating and Cooling Systems are built on a simple yet brilliant idea. They provide the flexibility to deliver air directly into different zones in your house, unlike traditional systems that route air through ducts. This results in more efficient heating and cooling and better energy savings.
Moreover, their compact size and flexibility for zoning or heating and cooling individual rooms offer more efficiency. With these systems, you can say goodbye to the energy losses associated with ductwork of central forced air systems.
Discover our Carrier Ductless Mini-Split Systems Collection
As a proud provider of Carrier products, we offer a variety of Carrier Ductless/Mini-Split Systems models that are tailored to fit your unique needs. Each model comes with its own key features and specifications, with common threads being energy efficiency, whisper-quiet operation, aesthetic design, and user-friendly controls.
Why You Should Choose Carrier Ductless Systems
Aside from the mentioned benefits, Carrier Ductless Systems ensure a better air quality as they have multi-stage filtration system that can drastically reduce dust, bacteria, pollen, allergens and other particulates. They also boast of a reduced carbon footprint due to their improved energy efficiency.
Dedicated Installation and Maintenance Services
Our experienced team at Caldeco Air Conditioning & Heating provides a comprehensive installation service, ensuring that your system is set up for optimal performance. Post-installation, we offer ongoing maintenance and repair services to keep your system running at its best. And remember, a well-maintained system lasts longer, saving you money in the long run.
Take the first step towards a more comfortable home today. Click HERE to schedule a consultation.
Reach Out to Caldeco Air Conditioning & Heating
Carrier Ductless Heating and Cooling Systems are a smart choice for those who value comfort, energy efficiency, and innovative technology. At Caldeco Air Conditioning & Heating, we take pride in being a leading provider of these state-of-the-art heating and cooling systems. We strive to provide unrivaled service and support to our customers throughout Tampa, Clearwater, Brandon, Carrollwood, Temple Terrace, and beyond.
Your comfort is our priority, and we can't wait to help you discover the benefits of going ductless. Reach out to us today and explore a world of difference with Carrier Ductless Heating and Cooling Systems. Your journey to a comfortable and energy-efficient home starts here.
Don't wait, contact us now and let's make your home the best it can be. The future of heating and cooling is here, and it is Carrier Ductless AC systems.