The Carrier Infinity System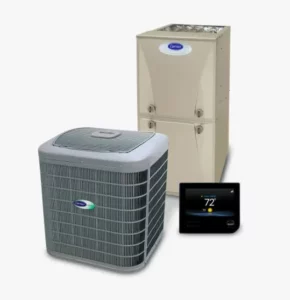 The most advanced heating and cooling system Carrier offers, the Carrier Infinity system is leading the industry with intelligent, connected, and efficient comfort control. Helping you to minimize temperature swings and save money on energy costs, there's countless reasons to consider the Infinity system for your next AC system upgrade. Learn more about this innovative new HVAC system from the experts at Caldeco Air Conditioning & Heating - or request your quote today.
Call now to get started!
The Advantages of the Carrier Infinity HVAC System
With Infinity, you create your own comfort with all components of your system working together to provide you with whisper-quiet performance, exceptional efficiency, and controlled access from anywhere in the world. Simple to operate, this equipment gives you the information you need to make educated decisions about your home's energy management - while letting you customize your home's interior environment to match your idea of comfort.
Improved Temperature Control
Managing airflow is vital to reduce temperature swings in your home, which is why Infinity products with Greenspeed® Intelligence are an ideal option. These systems can automatically respond to both your needs - and weather changes.
Exceptional Air Quality
Indoor air is often much more polluted than exterior air, but the Infinity air purifier features a patented Captures and Kills® technology that eliminates 99% of select airborne pathogens, ensuring your family is always breathing the cleanest and freshest air possible.
Top-Rated Humidity Control
Humidity can help or hinder your indoor comfort, but thanks to Infinity, you can make the most of Florida's environment by utilizing humidity to your advantage during the dryer months and removing up to 400% more moisture than standard HVAC systems in the more humid, hot summer months.
Purchase Your Carrier Infinity HVAC System Today
Would you like more information about how the Infinity system can redefine home comfort for your family? Ready to request pricing? We can help. We serve residential and commercial customers in Tampa, Clearwater, Brandon, Carrollwood, Temple Terrace, and the surrounding regions across West Central Florida, and we look forward to serving you. Please contact us today to learn more or request a quote online now.