Carrier Mini Split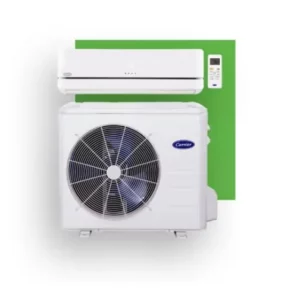 A Carrier mini split might be just what you need to control the comfort in your home or office. Mini-split systems are ductless AC systems that allow for greater flexibility and comfort control. Fitting into nearly any space, including those where traditional HVACs can't, you can enjoy cooler temperatures in any room of  your property. To learn more about the mini-split systems available from Carrier, turn to the experts at Caldeco Air Conditioning & Heating. We can help you determine if a ductless system is right for you.
Call now to get started!
Why Choose a Ductless Carrier Mini Split?
A Carrier split system offers virtually endless configurations and can deliver maximum comfort with minimal visual impact. They come in several shapes and sizes, too, so you can find a model that'll fit right in with your home or business décor.
And, because these systems don't require any ductwork, they can be used nearly anywhere, including new home additions, garages, zoned areas of your home or business, and more. Better still, they are easy to install with wall mounted options available.
FAQs
Can the System Be Configured with More Than One Indoor Unit?
Yes! These systems can be used with one or multiple indoor units powered by a single variable-speed outdoor unit.
Will Installation Cause Any Damage to My Property?
No! With the exception of the mounting the indoor unit on your wall, there is no need for opening walls, patching, wiring, or painting. Installation is a breeze!
Are Mini-Split System Energy Efficient?
Yes! Since you are only heating or cooling one zoned region of your home or business, these units are highly effective and efficient.
How Can I Get a Carrier Mini Split?
Simply call our team today or request a quote online now. Our NATE-certified technicians can help you determine which Carrier mini-split model is right for you, provide you with quotes, and complete your installation.