Central Air Conditioner Repair Services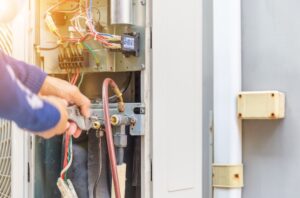 At Caldeco Air Conditioning & Heating, we offer all of the central air conditioner repair services that you could need. We serve residential and commercial customers in Pinellas, Pasco, and Hillsborough Counties and are highly rated across the region. Since 1989, we have been committed to providing our customers with the top-quality service and support that they need to stay cool throughout each year, and our team looks forward to serving you.
Call now for immediate assistance!
Comprehensive Air Conditioner Repair
Whether your system is not cooling as well as it should, has stopped working altogether, is loud during operation, or showing any other signs of malfunctioning, our Hometown Experts can diagnose and repair your system quickly. We specialize in making residential and commercial systems work optimally, regardless of the age or condition of your system, and we'll get an experienced, skilled technician to your door as soon as possible - and at a time that's most convenient for you.
From faulty condensers and compressors to faulty wiring, thermostats, and everything in between, we can find whatever is causing the issues with your system and provide you with affordable solutions to make it right. Even better, our technician will show up with everything needed to get the job done in one visit, so you can get back to your daily routine with minimal downtime for your system.
Thinking about a replacement system? We can help with that, too. We carry a wide range of AC systems perfect for homes and small businesses, and if your AC is past the point of economical repairs, we'll help you find a solution for a replacement that will work with your budget.
Schedule Your Central Air Conditioner Repair Today
We have hundreds of satisfied customers in Tampa, Clearwater, Brandon, Carrollwood, Temple Terrace, and the surrounding cities, so if you need a central air conditioner repair service at your home or office, please contact us today.