Central Heat and Air Installation in Central Florida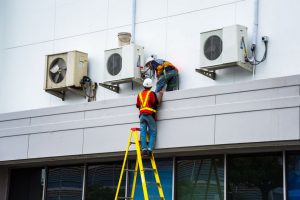 Central heat and air installation must be completed properly from the start for you to enjoy a healthy, energy-efficient system for years to come. It is vital that ductwork, electrical components, and other equipment be set up correctly, sealed, and tested to ensure that your air conditioner works at optimal levels long term. Thankfully, Caldeco Air Conditioning & Heating provides best-in-class central AC installation for residential and commercial customers throughout Central Florida, so local property owners have a company that they can trust.
Central Heat and Air Installation Basics
Before purchasing a new or replacement air conditioning system, be sure to review the basics of the latest makes and models. Our experts can help you select the right product for your needs by considering factors such as square footage, energy-efficiency, cost, warranties, and more. We will take the time to learn about your unique needs and help you choose the model that is best for you and your property.
Things to Consider
Energy-Efficiency - How much electricity does it take to run your AC system, and how effective is your system at keeping the property cool over long periods of time?
Manufacturer Reputation - Is the system you're considering manufactured by a reputable, industry-leading brand? Does the brand stand by their products? What is the system warranty?
Maintenance Requirements - How often does the manufacturer recommend maintenance? Are there any known bugs with the system you are considering? What is the average cost of maintenance on a similar system?
System Cost - Is this the most affordable unit you can purchase for your system needs? If not, what are the benefits of buying this system? Are there any financing options available?
Caldeco Air Conditioning & Heating can help you answer these questions and more, as well as provide you with top-quality central AC installation once you have selected a model. Our NATE certified technicians are always prompt, friendly, and reliable, and they can offer best-in-class installations, maintenance, repairs, and more.
If you are looking for central heat and air installation in Clearwater, Brandon, Trinity, Land O' Lakes, Wesley Chapel, or any of the neighboring cities, please contact us today to get started. We are ready to provide you with quotes and schedule your installation at a time that is best for you!