Duct Cleaning Services in Tampa, New Tampa, Brandon, Clearwater, Land O' Lakes & Surrounding Regions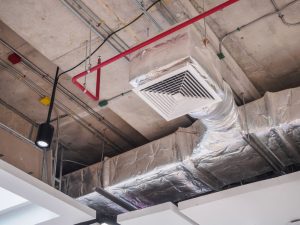 Home and business owners often overlook the importance of regular duct cleaning services to keep their HVAC system clean and clear of airborne contaminants, but cleaning your ducts is vital to your physical health, as well as the health of your AC system. At Caldeco Air Conditioning & Heating, we are proud to offer comprehensive duct sealing and cleaning services, as well as air filtration services to help ensure that you only breathe the cleanest, freshest air.
Why Should I Clean My Air Ducts?
Both your home and your business should receive regularly duct cleaning services to help rid your air of dirt, dust, pollen, mold, mildew, and other allergens. These contaminants can cause or worsen existing allergies, asthma, and other respiratory health conditions. Additionally, people often report increased headaches, sinus pressure, stomach ailments, and more when they are consistently exposed to contaminated air. By ridding your ductwork of unwanted debris, you can improve the health of your family and colleagues, which can reduce absenteeism, increase productivity, and improve morale.
Additional benefits include:
Saves Money: Duct cleaning services can make it easier for your HVAC system to pump cool or warm air throughout your home or business. As a result, it doesn't require as much energy to circulate air, decreasing utility costs for months to come.
Eliminates Odors: Debris within your ductwork can often cause unpleasant smells and odors throughout your entire space. By eliminating these agents, you can enjoy fresher air and rid your home or office of unpleasant odors that don't reflect positively on you, your family, or your business.
Extends Unit Life: When your ducts are clean, your system doesn't have to work so hard. As a result, it enjoys more downtime, both reducing repairs and extending the life of your system.
Caldeco Air Conditioning & Heating can clean your ducts and seal them properly to help you avoid excessive contamination in the future. Our technicians are experts at eliminating debris from within your system, and we are dedicated to helping you breathe cleaner, fresher air.
In addition, we offer a wide variety of other HVAC services to keep your unit in top working condition. From AC repair and maintenance to air filtration, new system installations, and everything in between, we can be your single source for any heating or cooling need.
If you are looking for duct cleaning services for your home or business in Tampa, New Tampa, Brandon, Clearwater, Land O' Lakes, or the surrounding regions, contact Caldeco Air Conditioning & Heating today. We'll schedule your service at a time that's most convenient for you and look forward to helping you enjoy the cleanest air possible!