Duct Cleaning in Wesley Chapel & Surrounding Regions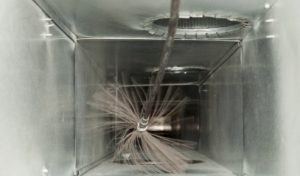 Have you noticed a musty odor when the air conditioner kicks on in your home? Are you frustrated that your furniture is dusty shortly after you clean your house? Has anyone in your family recently been experiencing headaches, itchy eyes or throat irritation only when they are at home? Is your New Tampa or Clearwater home over 4 years old? If you answered yes to any of the questions, you probably need to schedule a thorough duct cleaning. As particles such as dirt, pollen or hair accumulate throughout the duct system in your home, air flow is reduced and your indoor air quality decreases, which can create health related issues. Expert duct cleaning services are available from your hometown leader in HVAC services, Caldeco Air Conditioning & Heating. In addition to the obvious health benefits, increasing the air flow throughout the duct system with a duct cleaning will help cut energy costs.
Until someone has experienced the panic that sets in when the temperature has reached 90 degrees inside the house due to an AC system problem, many people don't realize that AC cleaning is needed to keep an AC unit running efficiently and extend the life of the system. Scheduled AC cleaning and maintenance programs from Caldeco Air Conditioning & Heating are the perfect choice to keep your unit in tip-top shape!
Our Caldeco Energy Savings Agreement offers the following benefits:
The best choice in Tampa, Wesley Chapel, Brandon, Trinity and surrounding regions for quality duct cleaning, AC cleaning and more is Caldeco Air Conditioning & Heating. Contact us today to learn more about our top-notch heating and air conditioning maintenance programs designed to keep you cool and your equipment running smoothly.