Heating and Air Conditioning in Temple Terrace & Beyond
If you are looking for a top-rated heating and air conditioning company near you, look no further than the award-winning team at Caldeco Air Conditioning & Heating. We can provide residential and commercial customers with all of the air conditioner repair, maintenance, and specialty services that they need to stay comfortable and extend the life of their current AC systems, and we stand ready to serve you.
Full-Service Heating & Air Conditioning Company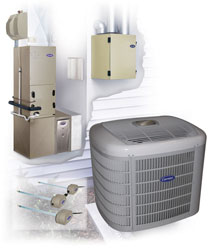 We know that home and business owners are busy with their daily lives, so we strive to ensure that they can find everything they need for their HVAC systems under one roof. We offer a wide range of service options to meet nearly any need, including:
AC Installations
and More!
Licensed & Insured for Your Protection
When you hire a company to complete air conditioner repair, installation, or maintenance services, it's vital that you choose a company with the credentials needed to protect you and your property. Caldeco Air Conditioning & Heating is proud to be licensed and insured, and we will ensure that you are 100% satisfied with the service that we provide.
Affordable Rates, Specials & Financing
We are known for offering our customers competitive rates on all of our top-rated services. Customers know that they can count on us for fair pricing and detailed service. Additionally, we offer regular discounts and specials throughout the year and can even provide financing options to qualified customers.
Energy Tips & System Recommendations
Caldeco Air Conditioning & Heating is committed to offering our customers the energy tips and system maintenance recommendations they need to save money on their energy bills and HVAC upkeep costs. We believe that an informed customer is a happy customer, and we will work with you to ensure you understand the ins and outs of your HVAC system.
Our team provides our full range of services to customers throughout Temple Terrace, Westchase, Trinity, Northdale, Brandon, and beyond, so contact us today for more information about any of our heating and air conditioning services or to schedule a service appointment at a time that works best for you.