Indoor Air Quality Testing in Tampa Bay Areas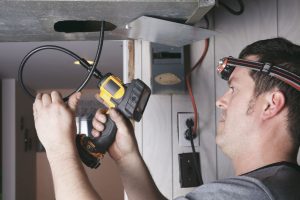 Are you finding you or your family members are often sick? Do your employees suffer from "seasonal" allergies all year 'round? It could mean that your AC system is contaminated with mold, mildew or other pollutants that make it next to impossible to stay healthy. At Caldeco Air Conditioning & Heating, we are pleased to offer indoor air quality testing, air filtration products and installations, and duct cleaning services to keep your system clean of contaminants throughout the spring, summer, winter and fall.
Indoor air quality testing can help you determine if you are overdue for a system cleaning, duct cleaning or system replacement. Typically, newer systems can be cleaned to both extend the life of the system and improve indoor air quality while reducing air pollutants. Other times, AC systems can be so outdated or overrun with contaminants that an entire system replacement is necessary to see a marked improvement in air quality. Let the professionals at Caldeco Air Conditioning & Heating perform an air quality test in your home or office to determine if you are breathing healthy air.
If a cleaning is in order, our duct cleaning and sealing service may be just what is needed to get you back to breathing top quality air. The initial duct cleaning will quickly remove pollutants preventing them from wreaking havoc on your health, while sealing your ducts can help prevent future contamination.
In addition to duct cleaning, we also offer regularly scheduled maintenance programs that can keep your system in tip-top shape for years to come. Options include:
AC Check-Up
Precision Tune-Up
Platinum Plan
If you live or work in Tampa, Wesley Chapel, Brandon, Westchase, New Tampa or the surrounding areas and think you are in need of indoor air quality testing at your home or office, contact Caldeco Air Conditioning & Heating now for more information. Or, if you are ready to start breathing cleaner, fresher air, schedule an appointment to explore adding better air filtration, or schedule duct cleaning services today!