Seal Air Ducts in Your Home or Office for Improved Air Quality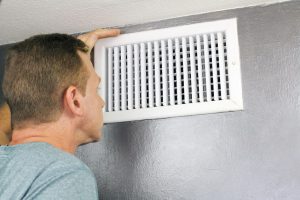 One of the best things you can do for your indoor air quality is to seal air ducts throughout your AC system. By ensuring your ducts are cleaned and sealed properly, you can help keep unwanted debris out of your air ducts - and out of the air that you breathe.
Why Seal Air Ducts?
There are two main reasons to ensure your air ducts are sealed correctly. The first reason is to improve the quality of your air, while the second is to improve the efficiency of your system.
Indoor Air Quality. Mold, mildew, pollen, dirt, debris, and other allergens and contaminants regularly make their way into your home or commercial HVAC system. If you have leaks in your ducts, that debris will multiply tenfold, and it will all eventually end up in the air that you breathe. Poor indoor air quality can lead to increased illness and allergies. Protect your family or employees and customers by ensuring that your residential or commercial HVAC system has properly sealed ducts.
Improved System Efficiency. Leaking ducts don't just let dirt and grime into your system, they also let air escape. This means that your system has to work harder to produce the exact same result - costing you big bucks along the way. Avoid excess energy costs by ensuring your ducts are sealed today!
Call now to schedule an AC Cleaning or sealing service!
Call Today for All Your AC Needs
Caldeco Air Conditioning & Heating also offers a wide range of other AC system services, including top air conditioner repair, AC maintenance, air filtration, new AC systems, HVAC Cleaning and more. If you are located in Tampa, Brandon, Wesley Chapel, Westchase, Clearwater, or the surrounding regions, contact us today for more information on how to seal air ducts in your system or to discuss any other AC needs you might have. We look forward to serving you!