Thermostat Installation in Tampa, Brandon & Beyond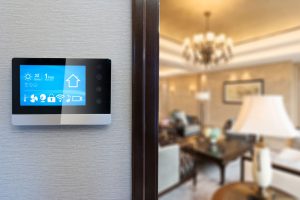 Are your indoor air temperatures feeling too hot or too cold? Is your system not kicking on or off when it should? It might not be an issue with your AC system, but rather, a problem with your thermostat. At Caldeco Air Conditioning & Heating, we offer your family or business everything that you need to stay comfortable year 'round, including thermostat installation, commercial and home air conditioning repair, AC maintenance, and much more.
Call us now to discuss your needs!
Thermostat Installation & Replacement
Is your thermostat malfunctioning? Depending on your power source, you may just need to replace your battery! Other times, your thermostat is beyond repair and will require replacement to enable your system to operate as efficiently and accurately as possible. Our team of HVAC experts can help you determine if your thermostat requires repair or replacement, and we can offer you replacement products that will meet and exceed your every need. From smart thermostat options to tried and true traditional thermostats, we have an option to meet any need or budget, and our technicians can replace your thermostat on the first visit.
Schedule your service today!
AC System Installation, Service & Repairs Also Available
We pride ourselves on offering our residential and commercial customers with everything they need to have the most optimally performing systems possible. Our full range of services includes AC repairs, AC maintenance plans, new AC systems, AC installation, duct cleaning and sealing, air filtration solutions, and other valuable services, and we offer some of the most affordable and competitive rates around.
As a Carrier Factory Authorized Dealer, Caldeco Air Conditioning & Heating is proud to serve Tampa, Brandon, Riverview, Carrollwood, Land O' Lakes, and the surrounding cities throughout Central Florida. If you think you might need thermostat installation or would like to schedule any other AC service or repair, contact our experts today.