AC Unit Repair Throughout Central Florida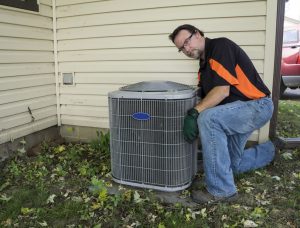 If you need a central AC unit repair, Caldeco Air Conditioning Repair Service is the one to trust. We have the skills, experience, and industry knowledge to provide our customers with best-in-class AC repair services, as well as a wide range of other HVAC services.
Central AC Unit Repair & Maintenance
At Caldeco Air Conditioning & Heating, we work hard to attend to your HVAC needs quickly and efficiently. We understand that a broken AC system can wreak havoc on your life, and our team will work quickly to provide you with a scheduled service call. At the time of your appointment, a Caldeco Air Conditioning & Heating technician will arrive at your property ready to work. He or she will have all of the training and experience to work on nearly any make or model, and they will come equipped with a fully-stocked van to ensure that they have all of the tools, parts, and equipment they might need to complete most common AC repairs.
To avoid future repairs, we recommend that all of our customers opt for regular AC maintenance. This AC tune up service allows our technicians to regularly inspect your system and provide small maintenance services to keep your system operating at top levels. Better still, we are often able to catch potential problems before they become more significant issues down the road. We have an assortment of maintenance plans from which to choose, some of which take all the hassle out of scheduling your yearly maintenance calls.
New AC Installations
Is your AC system beyond repair? Do you need a new AC system for a new residential or commercial property? Our AC contractors are happy to offer new AC system quotes, along with top-rated installations. We will help you choose the brand and products that best meet your needs and budget and schedule your installation at a time that's most convenient for you.
If you need an AC system repair, an AC tune up, or a new AC system installed at your property in Tampa, Wesley Chapel, Brandon, Westchase, Clearwater, or the neighboring regions, contact Caldeco Air Conditioning & Heating today to schedule your service call.