Air Conditioner Repair in Tampa & Nearby Cities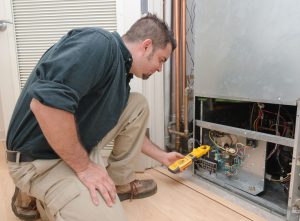 Top-quality air conditioner repair is harder to find than you'd expect. Too often, home and business owners shell out money to unqualified technicians only to discover their AC unit repair wasn't completed to their satisfaction. At Caldeco Air Conditioning & Heating, we've built a stellar reputation over our three decades of service to the Tampa Bay region, and our customers know that they can count on us for top-rated service every time.
Since 1989, Caldeco Air Conditioning & Heating has been synonymous with excellence. We are 100% committed to client satisfaction, and our customers have rewarded us with glowing testimonials and customer reviews. Additionally, we have been recognized as a current and 7-time winner of the Carrier President's Award, which demonstrates our dedication to superior service, sales, and workmanship. If you need AC repairs or maintenance at your home or business, we are here to help.
Affordable Air Conditioner Repair Near You
There are many potential causes for your AC issues and breakdowns, so it's important that the company you hire provides thorough and detailed service. At Caldeco Air Conditioning & Heating, we thoroughly inspect and diagnose every system we service before making any recommendations or repairs. This process is to ensure that all potential issues are found and remedied the first time around.
Our AC repair services and other HVAC system service options are made affordable to ensure that all area residents and business owners have access to the AC services they need to stay comfortable year 'round. We have competitive rates and can offer financing opportunities to qualified customers.
Full-Service AC Company for Your Family or Business
At Caldeco Air Conditioning & Heating, you can find all of the AC services that you could need for your home or commercial property, including:
AC Installations
and More!
If you need to schedule air conditioner repair at your property in Tampa, Pebble Creek, Temple Terrace, Clearwater, Brandon, or the surrounding regions, or if you have any other AC-related needs, contact our experts today to get started.