Tampa Air Conditioning Repair – Caldeco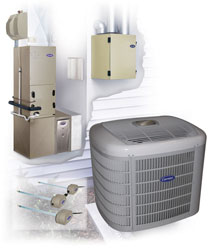 It is critical to your home comfort to have an air conditioning unit that operates correctly and efficiently, especially during the hot Tampa Bay summer months. Due to the amount of time you are likely to use your air conditioner to battle the high temperatures and humidity levels in Florida, maintaining your unit is important. At Caldeco air conditioning company, we offer central air conditioning repair and maintenance programs to keep your home or business cool so everyone inside can stay comfortable. Our full air conditioner repair tune-up includes a complete and thorough cleaning of your entire air condition system including the coil and blower. That is the key to good maintenance and keeping your air conditioner running efficiently.
When your air conditioner isn't working properly, it is costing you more than just the cool air you desire. An inefficient air conditioner will also create problems such as:
Unequal cooling effects
Higher energy bills
Complete breakdowns leading to a new ac replacement
Don't risk a mid summer break down. Call the air conditioning experts at Caldeco Air Conditioning and Heating today to schedule a tune-up for your air conditioner.
If you do experience an air conditioning breakdown, our qualified professionals will come to your home or business and quickly determine the exact nature of the problem. Our air conditioning repair service experts are experienced in repairing problems you have with your system. We service all makes and models and we are also a Carrier Factory Authorized Dealer who has twice received the Carrier President's Award – the highest honor for its dealers recognizing outstanding business practices. That helps ensure complete customer satisfaction.
Don't spend your time wallowing in the humid heat of the Florida summers without the assistance of an operational air conditioner. Contact our professionals today to find out what is wrong with your unit and get it repaired so you can bring your Tampa, Brandon, Clearwater, Temple Terrace or Greater Tampa Bay home or business to a more comfortable temperature.