Commercial HVAC Companies Near You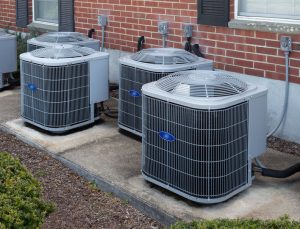 Does the heat have you and your employees down? Beat the heat with Caldeco Air Conditioning & Heating. We have served the Central Florida community for over 30 years, and we offer a broad range of services to residential and commercial customers. We are known for our top-quality equipment and superior workmanship, so when you are looking for residential or commercial HVAC companies, choose The Hometown Experts at Caldeco Air Conditioning & Heating.
We Can Offer You Everything You Need for Your Business
At Caldeco Air Conditioning & Heating, we provide everything that home and business owners need to heat and cool their properties. We provide everything that you could need from cooling and heating companies. From the best air conditioners on the market to a full range of top-rated commercial AC service, we can handle it all at Caldeco.
Our services include:
From the simplest of tasks to the most complex, there is no AC repair, maintenance, or installation job that our experienced and skilled technicians can't expertly complete with ease. Our team is comprised of the best technicians in the region, each of whom has the training and knowledge required to make the best recommendations and provide superior workmanship on every job. We leave no stone unturned when servicing your AC system, and we go out of our way to ensure your complete satisfaction.
Need a new AC system? No problem. We can offer new AC quotes, installation services, specials, financing, and more!
The Best of Tampa's Commercial HVAC Companies
When you are looking for residential or commercial AC companies near your property in Tampa, Brandon, Wesley Chapel, Westchase, Clearwater, or the surrounding regions throughout Central Florida, trust the experts at Caldeco Air Conditioning & Heating. Contact us today to request quotes, schedule service, or learn more about any of our best-in-class services. We look forward to serving you!