Duct Cleaning in Brandon & Surrounding Regions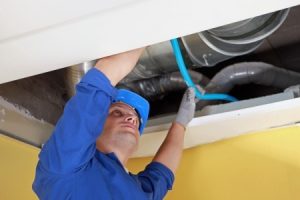 If your AC system isn't running properly, clogged ducts could be to blame. Under normal operation, residential and commercial AC systems can become bogged down with dust, dirt, germs, mold spores, hair, pet dander, pollen and other pollutants. Unfortunately, without proper cleaning, roughly 95% of these particles can be passed through standard air filters and make their way into the air you breathe. Luckily, Caldeco Air Conditioning & Heating offers comprehensive duct cleaning and sealing services to improve your air quality and system efficiency.
Signs it may be time to consider duct cleaning services for your home or office include:
Energy costs have increased over time.
Family members or employees suffer from allergies, asthma, or other respiratory conditions.
You have pets.
Your home or business has a musty smell when the air conditioner is running.
Your residential or commercial AC system is 5 years old or more.
If one or more of the above applies to your situation, it is important to get your unit cleaned to restore efficiency and prevent damage to your unit. By scheduling a thorough duct cleaning and sealing service from Caldeco Air Conditioning & Heating, you can save energy and drastically improve your air quality.
In addition to cleaning your ducts, we offer a range of other central air conditioning repair and maintenance services. Whether your unit has stopped running or the air temperature doesn't seem quite right, our service technicians can help you get back up and running quickly and efficiently. NATE certified and equipped with the training, skills, tools and equipment necessary to ensure the highest quality service, our team can quickly diagnose and repair nearly any AC system issue you might be having.
If you live in Brandon, Northdale, Trinity, Temple Terrace, Wesley Chapel or the surrounding regions and have noticed a change in air quality or the efficiency of your AC unit, contact Caldeco Air Conditioning & Heating today for more information on our duct cleaning services or to schedule an appointment for central air conditioning repair, maintenance or installation services.